From 13th – 15th October, members of our global team congregated in Barcelona to attend K2 Corporate Mobility's first ever company-wide conference.
The KINETIC Conference, which saw over 240 K2 employees assemble in one location, was organised with unification and collaboration in mind, and provided attendees with a unique opportunity to spend time with colleagues from around the globe in the spectacular surroundings of Spain's Catalonian capital.
Co-owners Nick Plummer and Richard Rutledge wanted to create an event that would help to cement K2's identity as a truly global business and build on the existing sense of community across the company.
Richard explains:
"Whilst this felt like a good opportunity to mark the company's 20th birthday year, we wanted the KINETIC Conference to be much more than a three-day celebration: it was a chance for knowledge sharing, team-building, communicating essential business updates and further strengthening K2's culture. There was a lot that we wanted to cover and with such an action-packed agenda to work through, precision planning by the conference team was essential, to make sure our time together was effectively utilised."
So, what was the plan developed by the conference team?
Following a day dedicated to the safe arrival of employees, with time for checking-in, settling-in and catching-up, a welcome drinks reception was held on the evening of Thursday 13th October, giving colleagues from K2's offices around the world an initial opportunity to enjoy valuable face-to-face contact time.
The formal conference portion of the event took place on Friday 14th October, with attendees hearing from key K2 stakeholders on a variety of topics throughout the morning. Updates on K2's current 5-year business plan, Kinetic, were delivered by Group Managing Director, Jo Wakeham, and Managing Director for the APAC region, Paul Barrett. Next up was a personal account from K2's Global Head of Compliance & ESG, Linda Rafferty, who spoke about her journey at K2 and the organisation's ongoing commitment to 'doing things right'. A new employee recognition programme, K2Q, was unveiled by members of the Executive Leadership Team, before the conference was brought to a close by a moving and insightful Q&A session with Global CEO, Nick Plummer.
After an afternoon of team-building activities on the beach, the K2 Family all sat down together for a dinner and awards ceremony at the 'K2 Canteen'. During the course of the evening, Nick and Richard took to the stage to honour X Annos members, thank the Executive Leadership Team, and give tribute to one special member of the K2 Family, Bernie Hillewaert, who has been with K2 for over a decade, and is an embodiment of the K2 spirit, having shown tremendous dedication over her many years with the company.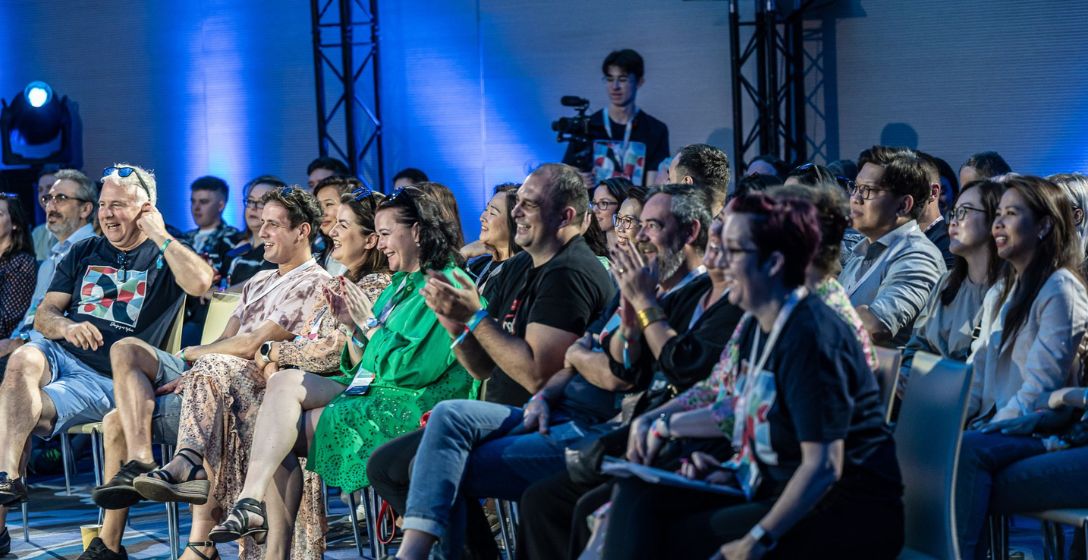 Reflecting on the event, Nick comments:
"Whilst technology is a powerful tool for connectivity, there is no substitute for in-person interaction. As the company continues to grow, the need for events like this will become greater to help support operational consistency and maintain the K2 culture.
The K2 culture is often cited as one of the best things about working at K2. Of course, it is the people that make a company culture – K2's unique family feel comes from a companywide desire to collaborate, support one another and approach tasks head on, with a positive, can-do attitude.
More than employees, our K2 Family is made up of a community of like-minded individuals, who come together to make a powerful global team. To be able to bring this global team together in Barcelona earlier this month was a truly remarkable experience, the memories of which will stay with me for a lifetime.
A key theme of the KINETIC Conference was reward and recognition. It was a fantastic feeling to be able to use the conference as a forum to reward and recognise the hard work and dedication of our people."
Alongside the celebrations and the more formal business focused conference, there were also wellbeing activities organised, including morning yoga and an e-bike city cycle, plus an opportunity for attendees to explore the city before heading home on Saturday.